Rural MN CEP Spring Job Fairs Will Develop Resilient, Multi-Skilled Communities
By connecting Minnesota communities with opportunity through dynamic job fairs, Rural MN CEP helps develop resilient, responsive and relevant communities. Through virtual simulations, special programs for youth, and the potential to interview on the spot, Rural MN CEP takes the traditional job fair to the next level.
Throughout the spring season, Rural MN CEP will host job fairs throughout several locations in Minnesota, including: Fergus Falls, Brainerd, Wadena (download flyer), Moorhead, Alexandria, Bemidji, and Little Falls. The job fairs will feature numerous industries and trades, including health care, manufacturing, transportation, and more.
---
Rural MN CEP Connects Communities, Creates Careers
The jobs fairs will provide crucial connections between local employers and their regional talent. Wadena Team Leader Evelyn Fowler states that the job fair helps local professionals reimagine what's available in terms of their career. "It really makes them think outside the box and gets them interacting with what's available in this area. The employers are awesome, and willing to sit and visit with them." Moreover, Fowler states that the fair isn't just for businesses that are hiring. "I also encourage anyone who's not hiring to attend, so when they are hiring the community has an idea of what they do and who they are."
While the job fairs will be open to anyone in need of employment, there will also be designated time-slots specifically for young professionals. High school students will be bused in from local areas and receive guidance at the door. Students will then have the opportunity to talk with local employers, gain a deeper understanding of career options, attend resume workshops, and more.
Little Falls Team Leader Samantha Froelich states that working with new graduates also benefits local businesses, "The job fair gives employers the opportunity to visit with a captive audience of job seeking clients. With a low unemployment rate in the area, the chance to have an event like this and the opportunity to connect with high schoolers and soon to be graduates is extremely valuable."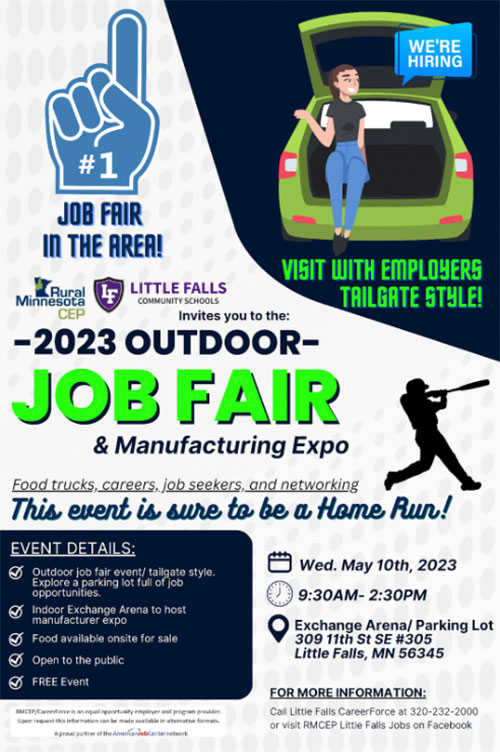 Rural MN CEP Encourages Exploration and Immediate Local Connections
Job fairs are useful for their networking purposes; Rural MN CEP takes it a step further by providing exploration activities to the communities they serve. With virtual simulators like the Big Ideas mobile lab at the Wadena job fair, for example, attendees of the job fair can also explore their dream career virtually. Inside the trailer are classrooms with simulators for welding, carpentry, and excavation. In addition, the job fair will also feature local food trucks, keeping the event locally sourced on multiple levels.
Froelich advises attendees to expect the best-case scenario. "This event is open to the public and all job seekers. It is a free event, and a great opportunity to network. Come prepared with a resume and be ready to interview on the spot." To learn more about Rural MN CEP's other job and career services, click here.
Job Fairs Subject to Change • Please See Event Calendar for Up-to-Date Details