RMCEP Sets Workers on a New Path
A shortage of truck drivers has surfaced amidst national supply chain issues in recent years. The American Trucking Association estimated a shortage of 80,000 truck drivers in the United States at the end of 2021. Jamie Holm of Little Falls, MN, recently experienced what that means for those seeking employment in the field.
"As I was interviewing for jobs, I saw a huge demand for drivers," he said. "I felt like I was at a dog park with bacon in my pocket."
Rural Minnesota Concentrated Employment Program (RMCEP) helps people find work across nineteen North Central and West Central Minnesota counties. Its staff at the various CareerForce Centers in its territory work with individuals like Holm through the Dislocated Worker Program of the Minnesota Department of Employment and Economic Development. The program specifically addresses employment barriers like skill transfer, work experience, formal training or education and earning potential. Services are custom-tailored to meet workers' needs, including career counseling, job placement, training and planning.
Holm moved to Little Falls from the Twin Cities in 2006 to work for IWCO. He met his wife there and they found themselves on the path toward typical family life, buying a house and having two children.
"Everything was going well, earning a good living with good work and loving the area where we could hunt, fish, camp and enjoy the outdoors," he said. "I thought I would be a lifer at IWCO, but then the decision was made to close the facility."
A different path
Holm was laid off in November 2021 as part of IWCO's plan to close its Little Falls facility. Holm said he always had a backup plan, just in case, to become a truck driver because he felt it was a profession he could get into quickly. But he realized the cost to complete the programs required to get a commercial driver's license would be quite prohibitive. He turned to the CareerForce Center in Little Falls, where he learned the funding necessary for the program could be covered by the Dislocated Worker Program.
"I would not have been able to make the transition without their assistance," he said. "I probably would have had to rent a truck and take a chance at making a go of it by myself."
Instead, he was able to complete the CDL program at 160 Trucker Academy in St. Cloud in a little more than two months. Participants had traditionally completed the 160-hour program in four weeks, but with COVID-19 pushing CDL exams back considerably, the Academy changed to half-days, finishing up in about two months. So after being laid off on November 1 and starting the program on December 10, he passed the exam for his CDL-A license and began applying for jobs by February.
CareerForce staff helped Holm build his resume and submit online applications. In one day, he visited 12 different hiring employers in person, gaining five interviews on the spot.
"Everyone wanted to hire me, although some couldn't due to my lack of experience," he said. "That experience made me very optimistic I could find a job."
He was offered and accepted a job with Performance Food Group, a trusted leader in the foodservice industry. From its nearby Rice, MN, location, Holm started as a substitute driver, filling in for established drivers, continuing their delivery routes in Cascadia Freightliners. Holm found many benefits in the job. It's located near his home and he is home most evenings and weekends. His compensation is based on a formula that provides a daily guarantee equating to about $83,000 annually.
Back in the driver's seat
Holm said he could not be more thankful to RMCEP and the staff at the CareerForce office who helped him. After the upheaval and stress of the IWCO closure, Holm feels like he and his family are in a good spot now.
"I am 100% into this job and look forward to transitioning from the sub driver to getting my own routes, which will make my schedule even better for our family," he said.
Long term, Holm is interested to see how his body holds up to the physical requirements.
"There is a lot of lifting and you have to cart the cheese packages to customers wherever the customer needs it," he said. "But I enjoy it now and have even lost some weight doing the job!"
RMCEP is a private, non-profit corporation that provides quality workforce development services in a nineteen county area in North Central and West Central Minnesota with a vision to be viewed by customers and prospective customers as the leader in employability development services in the state. The agency is in its 52nd year of operating employment and training programs, including services of the Workforce Innovation and Opportunity Act (WIOA), the primary federal workforce development legislation.
More Topics
RMCEP recently represented the state's rural areas on the State of Minnesota Performance Negotiation team to negotiate performance standards with the US Department of Labor for the upcoming two years for the WIOA programs.  Those programs are WIOA Adult, WIOA Dislocated Worker, WIOA Youth and Wagner-Peyser.  It is always an...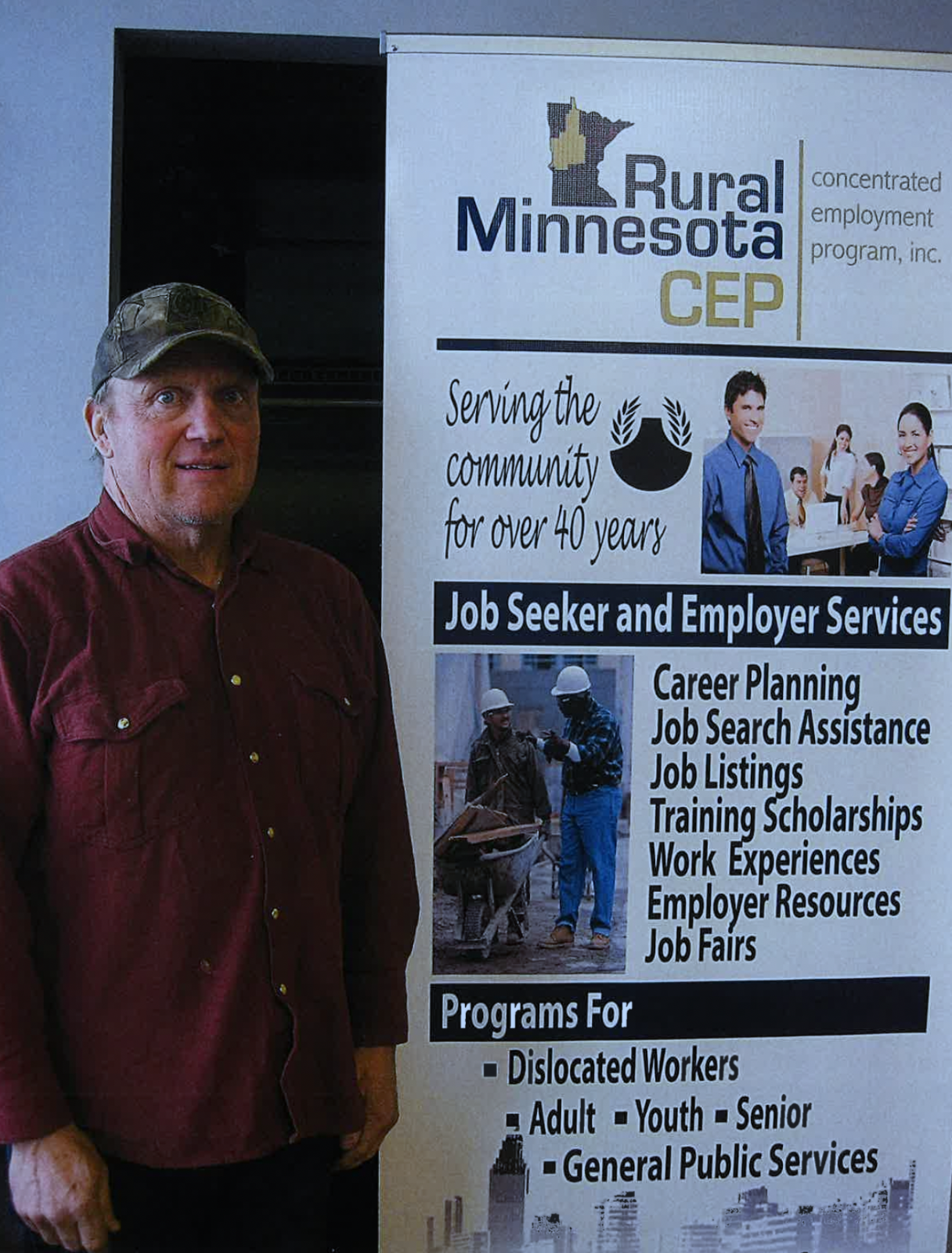 Career transition can be a stressful experience for anyone. The task can be incredibly intimidating for individuals in their 60s. When Douglas Mason was laid off at that age, he knew he wanted to keep working but was unsure how to start the process of finding a new job. He...